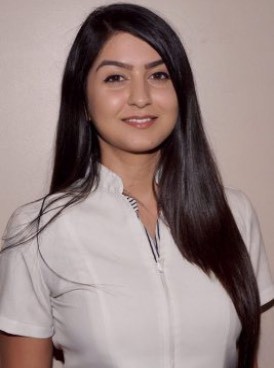 Dr. Ava Hafezi
Dentist
Dr Ava Hafezi is a Hobart local. She attended James Cook University, graduated with a Bachelor of Dental Surgery degree and awarded an academic medal. She is also bilingual, speaking Farsi fluently.
With experience performing dentistry in many different settings, Ava has treated patients of all ages, from diverse cultures and with varying medical needs. She has practised at both private and public clinics in Tasmania, Far North Queensland and the Northern Territory.
Ava is passionate about delivering dental care of the highest quality. She maintains this standard by consistently striving to further her knowledge and skills through the regular attendance of professional development courses.
Although she enjoys all aspects of general dentistry, Ava has a keen interest in aesthetic restorative work and periodontics. She practices patient-centred care and values minimal intervention, focusing on prevention through sound patient education. Her caring nature drives her dedication in ensuring all her patients' needs are met to the best of her ability. She works closely with her patients to tailor a  favourable treatment plan that suits each individual's budget.
In her spare time Ava likes to travel, sample different cuisines and cultures, explore the beautiful Tasmanian scenery and spend time with friends.