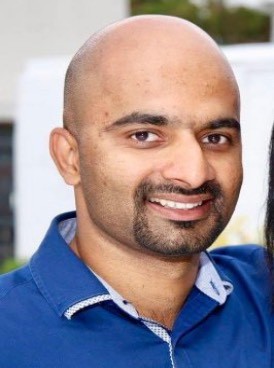 Dr. Girish Sasidharan
Principal Dentist
Dr. Girish is a General Dentist with a keen interest in public health and patient centred care. He is known as a gentle and friendly dentist among his patients. He has a wide range of experience and expertise in every aspect of dentistry and have more than 14 years of post-graduate clinical experience. He has been working in the Public Dental Clinic (OHST) since he moved to Hobart in 2013. Dr. Girish Sasidharan was also a family dentist in City Dental Glenorchy & Newtown, before deciding to start his own dental clinic in Hobart city.
He completed his BDS in India and migrated to Australia in 2007 and successfully completed the Australian Dental Council's Registration Exam. Dr. Girish was inducted to the prestigious Royal Australasian College of Dental Surgeons as a member (MRACDS-GDP) in 2018. This is a recognition to high level of clinical competency and depth and breadth of comprehensive scientific knowledge he possesses as a Dental Practitioner.
Before permanently settling into the beautiful Tassie that he and his family fell in love with, Dr. Girish was in Northern Territory where he worked in Government Oral Health Services and travelled to multiple remote and rural communities in the Top End, providing dental care to Indigenous population.
Dr. Girish's special interests are in Endodontics, Restorative & Cosmetic Dentistry. He believes in the philosophy – "Education never ends". Hence he full-heartedly attends routine professional development courses nationally and internationally to update his knowledge and skills and nevertheless to mention, to be innovative. His passion in education also extends to teaching. Dr. Girish has been a well-known Clinical Supervisor for dental students from different Universities around Australia throughout his career.
He preaches and practices strongly for Conservative and Preventive Dentistry.
Dr. Girish loves travelling and camping with the family. When he gets free time, he loves to play Table Tennis, Pool and Badminton. He also likes to try his hand in cooking when he entertains his family and friends in his Hobart home.
Other Professional & Community Roles/Titles:
Associate lecturer, School of Dentistry (James Cook University) (2012-present)
Associate lecturer, School of Dentistry (University of Queensland) (2012-2017)
Council member of Australian Dental Association (ADA TAS)
Chair of committee for Oral Health Promotion – ADA TAS
Treasurer, Indian Medical Association Tasmania
President, Hobart Malayali Association
Committee member, Community Languages Tasmania