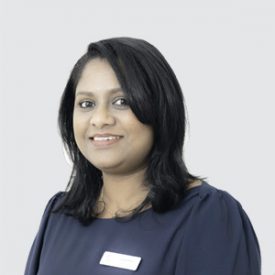 Jasmine Raju
Managing Director
Jasmine is Island Dental's Practice Manager, Co-owner and Dr Girish's wife. Jasmine who is an RN is a specialist in Clinical Education and Simulation.
She has more than 15years experience in Clinical leadership, education and management. Her excellent organisation skills and attention to detail ensures an effective Continuous Quality System in our Practice. Her passion in teaching along with her Masters degree makes her a great leader in our practice at maintaining our team's up-skilling and continuous professional training. In her professional career Jasmine trains Dentists, Doctors and Nurses on topics including Life Support, Leadership, Clinical teaching and Clinical simulation.
Jasmine has been in Clinical Education Consultant roles at the Department of Health in Northern Territory and Tasmania. She also coordinates and delivers 'Recognising and Responding to Medical Emergencies in Dental Setting' as her role in the University of Tasmania. This is a workplace training course delivered to Private Dental Practices. Jasmine has been continuously conducting annual Medical Emergencies Training for Clinical and Non-clinical staff in Oral Health Services Tasmania since 2015.
Jasmine loves to do small talks with children and warm, respectful conversations with older people. In her free time, she likes gardening, painting and cooking for her friends.